If you're here, your probably wondering around for WordPress plugin ideas and suggestions to use on your WordPress Site. Or, you are just starting out and looking for basic and easy plugins.
While we kept our list of WordPress Plugins and Themes on a spreadsheet for quick reach, we now list them all out here for everyone's convenience and these are not categorized; so choose the ones that are suitable to your Site Niche and use.
When we build a WordPress website, we only have 1 mission in mind for the back-end development. And that is to keep the Site lite in weight. That means we try to minimize the number of plugins we install and choose the right Theme for the Niche Site.
The key tip for a fast website is simply keeping your WordPress plugins to the absolute bare minimum for just the necessity, the right & lightweight Theme, and optimizing images to be small.
This list will be constantly updated, so Let's Start!
List of WordPress Plugins
SEO Plugin
Free & Pro Version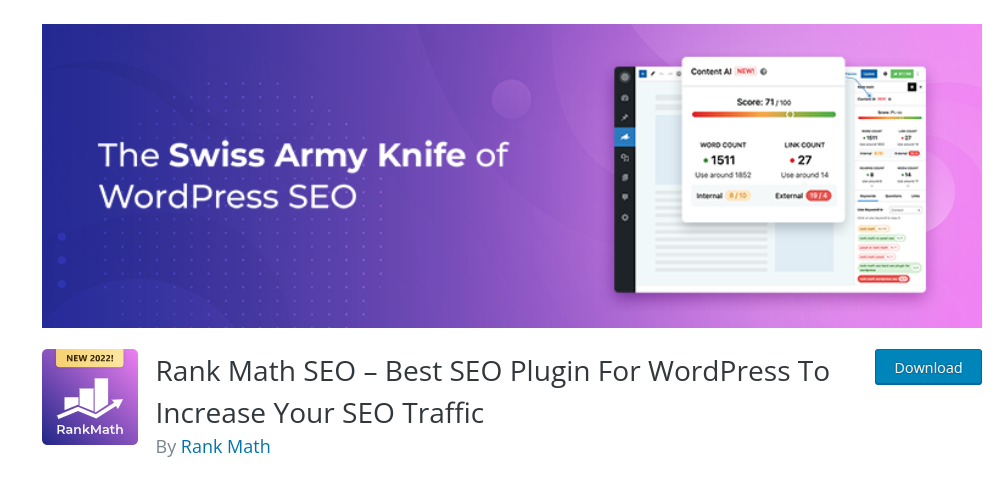 We used this plugin across all the websites we running and it's the 'must haves' plugin for us. Initially, we started off with Yoast SEO and we found a number of features that do not fit our style, so we explore a number of SEO plugins and ended up with Rank Math SEO. Plus, it's a lighter plugin.
Rank Math SEO is a very versatile plugin and very easy to use. You just set up it once through the Setup Wizard and you're good to go. The free version is really great and will help with optimizing your post and pages and ranking. The User Interface is really straightforward to use as well, as you draft your post or pages, the Rank Math SEO interface will be by your side ready for you to edit the details such as Meta Description on SERPs, Featured Images on Social Media, and SEO checklist.
Analytics Plugin
Free
Site Kit is a plugin to connect with Google Analytics, Search Console, Page Speed, and AdSense. That's 1 plugin instead of 4!
The good news is, Site Kit is made officially by Google so you can confidently log in using your Google Account, get your Site ownership verification, set up Analytics and Search Console, and finally set up AdSense – all within one plugin!
Use Site Kit by Google plugin for the convenience of tracking your Site directly on your WordPress. No longer do you need to go on the Google Analytics website for a quick check.
Security Plugin
Free
This plugin is our favorite passwordless wp-admin plugin. No more typing your password and username at the wp-admin which can be a hacking threat or getting tracked on public wifi. Trusona will replace that wp-admin page with a button and QR code that requires you to download the Trusona App on your mobile and scan for authentication and login. It is similar to Google Authenticator, the only difference is this is fast, and lite and the Advisor for this plugin and app is by the actual guy from the movie Catch Me If You Can; Frank Abagnale!
Trusona plugin is really a great Security plugin for your WordPress and the setup is straightforward, just select the option at setting if you want Trusona Only mode or the option to login using username and password when needed. Disclaimer, only use Trusona only mode ONLY if you have access to the WP Server as once you activate this option, there is no other way to log in.
Free
If there is one security plugin that can help your site from brute-force attacks, data leaks, and more; that plugin would be SiteGround Security.
We use the SiteGround Security plugin for all our sites as, like all our plugins, it is simple and straightforward to use. The good news is, you don't need to be on SiteGround host to use this awesome Security Plugin. SiteGround has recently released this plugin publicly for all non-SiteGround users to download and will work fine.
Fyi, if you use SiteGround Hosting, 3 plugins will be automatically installed for you when you Install WordPress via SiteGroud which includes SiteGround Security, SiteGround Optimizer, and WordPress Starter. On top of that, SiteGround now has its own CDN, which means one login for all. You can find out more on the SiteGround Website.
Oh Yes, this site and together with almost all of our sites are under the SiteGround host. 1 Hosting Plan, Unlimited Websites!
Web Cache
Free
Because we use SiteGround hosting, the SiteGround Optimizer plugin came with it, and honestly, the plugin is running well without any problems.
We have not encountered any cache issues for years and this plugin sits well on all our sites doing its work without interruption.
This plugin does work with sites that are not under SiteGround host without a problem and the alternative plugin we use before is W3 Total Cache
Ops another little talk about SiteGround Hosting again here. Another great reason why we love SiteGround is the cPanel. There is no cPanel!
Instead, SiteGround put you on their version called Site Tools. It's a more user-friendly 'panel' compared to cPanel and you only need to log in once from the SiteGround website to access your Host, and then to access your Site Tools. Again, super convenient with the one-time login situation. Set up your CDN, and HTTPS, access & edit your site files, and SSL certificate, and set up your email; all within Site Tools! So easy!
You can find out more on the SiteGround Website.
Website Builder
Free
Really? We use Gutenberg?
Yes, we really do, because the new Gutenberg editor is awesome!
The New Gutenberg Editor is more flexible and works really well for building a simple but useful site. It has the drag and drop function for those who seek that function, and it also has a very simple understanding use of Blocks. Here are the few basic blocks you can use to get started if you have no idea how to use Gutenberg Editor. The Gutenberg is the standard editor that comes with the WordPress install, so there is no need for any installation.
List of key Blocks:
– Group
– Column
– Heading
– Paragraph
– Image
– Gallery
– Video
If you don't have a WordPress running, Click on this link to go on to the Official Gutenberg website to start practicing using Gutenberg Editor
Quick Guide to try on Gutenberg Editor
As soon as you open a Post / Page, write the Title of the post
Then, type this symbol: /
Followed by the word group. It will look like this: /group
Press Enter
You now added the Group block to the editor.
Inside the Group, click on the "+" symbol
From the selection, select "heading" and type something
Press Enter, and it will go to the next line
This time, type the following: /image
Press Enter, and you now added an Image block!
Upload an image and Press Enter to move to the next line
Now just write a sentence or two in that line
Finally, click on Publish button at the top right side
Vualá ~ You created a Page!
And this article was made using the exact same steps!
We hope this quick guide made you kick-started to explore the Gutenberg Editor more easier
As you explore the Gutenberg Editor, you can also try out the Block Patterns. It's templates you can add straight to your editing page for a kick start on the design.
Free + Pro Version
For the more advanced design needs, Elementor is our choice.
If you are coming from Wix to WordPress, Elementor may be a more familiar feel of choice, it is based around the drag and drop function and you can go endless with design with multiple ways of adjustments.
The Free version works great for more of the static design works. The Pro version will unlock you with the finer detail including WooCommerce blocks, and advanced responsive, pro version template kits.
If you are seeking that pixel-perfect design or you dealing a lot with design aesthetics, Elementor is a great plugin (Free and Pro version).
Image Offload
Free + Pro Version
*For more advanced WordPress user
Yes, every host has storage limits. If you are heavy on blogging and e-commerce, this will eat up lots of your storage space. One way is to use the Image optimization plugin but storage space will still be a problem eventually. One way of preventing this storage issue to happen is by offloading the images to Amazon S3 or Google Cloud Storage.
Picture it as your other host just for images. With Amazon S3 or Google Cloud Storage, you can now host your images, videos, and pdf files on these cloud storage without affecting your web hosting storage. Keeping your website speed at optimum level.
How it works is by using this plugin, you get to connect your WordPress with Amazon S3 (for example), and all your images now automatically upload to the Amazon S3 cloud and delete images from your WordPress host storage (you need to set this up first).
The flow of uploading the images remains the same, you simply upload your images through WordPress, and attach the images to your Post / Pages. You will notice the link of your image is no longer your website address, instead, it is now an amazon s3 (bucket) link.
To see an example, right-click any images on this article and click "Open image in new tab" and see the web address.
*Tip: you can optimize an image without the need of an image optimization plugin by following some of these tips:
– Use JPEG file format whenever possible
– Use and upload image files with the desired dimension that you will display (ie. 800 x 800 pixels, 492 x 276 pixels, .etc.)
Because when you upload a large dimension on WordPress, WordPress will need to process the image for every site visit, this slows the site down, instead, upload right away the dimension that it will be displayed as
– Use Image Compressor to further compress your image without losing much quality using web tools such as TinyPNG
– *For advanced users: use WebP image format
Why are we against using the Image Optimization plugin?
We are not against it, we encourage avoiding unnecessary plugins if you are not using them as often as you should. If you upload 10 – 20 images per month, you can keep your site lightweight by manually resizing the image dimension and compressing the image before uploading.
Import Demo Content
Free
Great plugin when you install a new theme and the theme comes with the option of demo content to get started.
It's pretty straight forward to use, at the sidebar under themes, there will be an import demo data tab. Click on it and upload the three files (XML file, JSON / WIE file, and DAT file).
Once you done importing, you can simply deactivate this plugin and delete it as you will no longer need them. The demo content will remain until you delete it manually.
We use this in conjunction with our commonly used themes such as themes made by HivePress to import the demo content and kickstart the web development.
We do suggest backup your site first in case you need to revert back.
---
done
That is it! That is all the plugins we use for our sites. We like to keep our usage of plugins to an absolute minimum, resulting in all the sites running at optimum speed. This selection of plugins is suitable for Business and Blog websites. For e-commerce, the additional woo commerce plugin (or other alternative plugins) is required.
If you just launched your WordPress site, avoid installing plugins that you may not use for the time being and focus more on the design and content.
This article will be updated with more plugins including a contact form, directory, gallery, and many more; so follow us on our social media to keep up to date!
---